A version of this article originally appeared in the USCC Fall Compost Communicator.
Compost Communicator recently sat down with the co-founders of Beantown Bedding, a U.S. Composting Council member who joined the USCC to learn more about ensuring that their product, Laundry-Free Linens®, is entirely compostable in the compost manufacturing world. Beantown Bedding has been exploring its products' impact on fellow USCC members' facilities.
Q. Tell us about the mission of your company in your market.
Beantown Bedding developed compostable bed linens: eco-friendly disposable sheets that are soft and durable enough for weeks of use and are created with the intent of composting. The USDA certified 100% biobased product is chemical-free and made with eco-award winning TENCEL® fiber from eucalyptus trees. Laundry-Free Linens® are an innovative and convenient way for businesses and consumers to have clean sheets without the hassles of laundry.
Q. What are challenges to being a successful company in this industry? Are there ways that being involved in USCC is helping you meet those challenges?
As with any new product, it takes time to generate awareness. Some composting facilities are reluctant to accept unknown products. The USCC has been instrumental in providing networking opportunities that have led to partnerships and increased acceptance of our compostable bedding at some facilities across the country, such as WeCare Organics.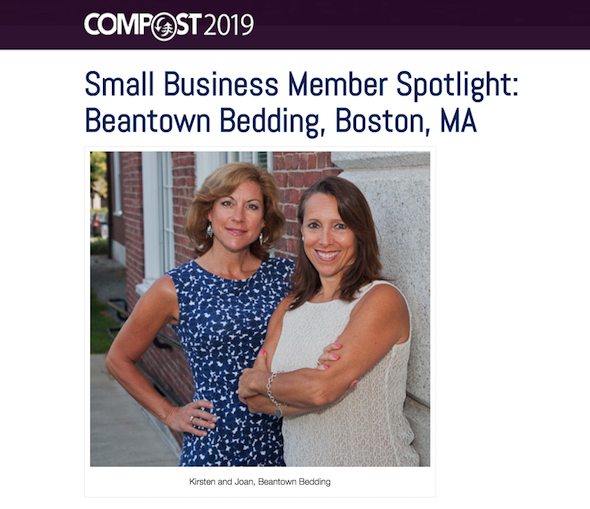 Q. What are some of the features that USCC offers that you find most useful?
We use the Compost Locator Map to help our customers inquire at composting facilities in their area. The educational resources, such as articles and fact sheets, are also beneficial to us and to our customers.
Q. If you could sit down with a compost manufacturing company to discuss any issue, what would it be and why?
A compost manufacturing company could offer valuable perspective on how to fast-track adoption of composting practices by businesses and consumers and develop the supporting infrastructure from the back end. There is no shortage of research or documentation of best practices to study, but implementation remains a challenge. Solutions require input from stakeholders at every stage of the process. In addition, we need to inspire development of new compostable products by removing barriers such as expensive testing and certification fees, which can be prohibitive to entrepreneurs.
Q. What do you think is a key element to the successful future of the compostable products in the U.S.?
Innovation. We need new and creative ways to make composting a more accessible and compelling option. Several high impact companies from MassChallenge are doing this.
Q. Introduce your fellow USCC members to your team! What do you do to build company spirit?
Beantown Bedding's founders, Joan Ripple and Kirsten Lambert, are two momrepreneurs who came up with the concept of compostable bed linens when they searched for an easier way for their kids in college to have clean sheets. It turns out that their solution had broader appeal. Laundry-Free Linens® have been adopted by universities, hospitality businesses, healthcare and emergency management organizations nationwide. The company also won the bid to supply sheets for the Special Olympics World Games in Los Angeles.
---

The U.S. Composting Council (USCC) is involved in research, training, public education, composting and compost standards, expansion of compost markets and the enlistment of public support. The USCC provides support for generators of organic residues, compost producers, policy-makers, regulators, professionals and product users for the purposes of advancing the industry. Learn more: www.compostingcouncil.org
Beantown Bedding is a woman-owned Boston-based business recognized for its innovation by INDA (Visionary Award Finalist), MassChallenge (Global Alum), Babson Breakaway Challenge (Finalist), the Primetime Emmy Awards (celebrity gift bags) and Women & Wealth's Magazine "17 Women to Watch in 2017". Learn more: www.beantownbedding.com